Upgrade Your Home Cinema Setup With Aukey's Mini Projectors
Projectors have evolved from being exclusive to cinemas and conference rooms to becoming versatile devices for home entertainment and professional presentations. In this article, we will delve into the world of projectors, highlighting two exceptional products from Aukey. We will explore their features, benefits, and how they can enhance your viewing experience and presentation capabilities.
RD-860 Version 2 Wireless Wi-Fi Mini Projector with 1080p Resolution Support Smartphone Screen Sync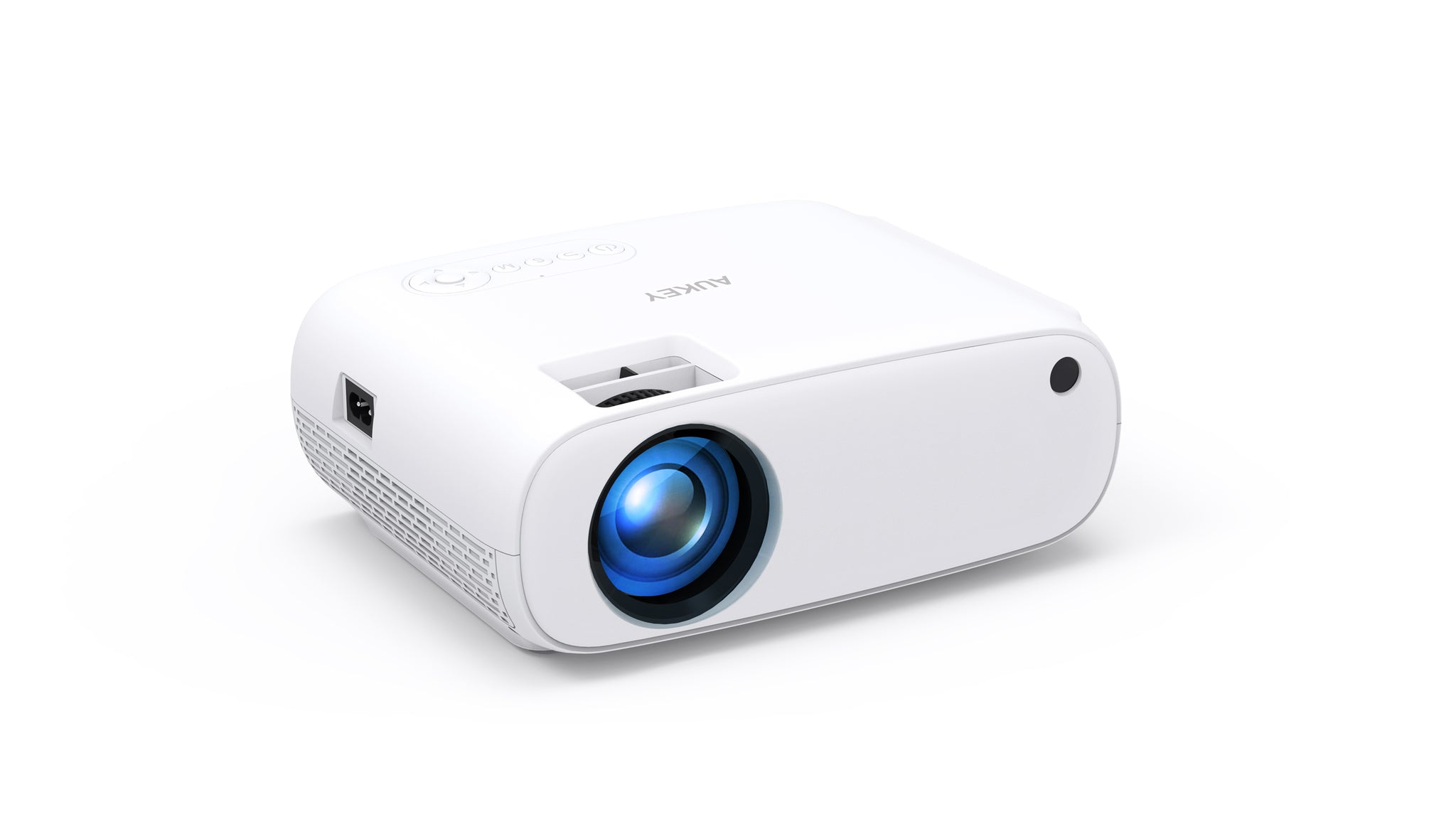 The Aukey RD-860 is a wireless Wi-Fi mini projector that brings immersive visual experiences to your living room or office space. With its 1080p resolution, it delivers crisp and vibrant images, ensuring a high-quality viewing experience.
One of the standout features of the RD-860 is its wireless connectivity. It supports smartphone screen synchronization, allowing you to mirror the display of your smartphone or tablet onto the big screen. This feature opens up a world of possibilities for streaming videos, playing games, or showcasing presentations directly from your mobile devices.
The compact and portable design of the RD-860 makes it convenient to carry and set up anywhere. With multiple input options, including HDMI, USB, and AV, you can connect various devices such as gaming consoles, laptops, and DVD players, expanding the range of content you can enjoy.
Equipped with advanced LED lighting technology, the RD-860 provides long-lasting and energy-efficient performance. The LED lamp has a lifespan of up to 50,000 hours, ensuring years of reliable usage without the need for frequent lamp replacements.
Product Features: 
Model: AukeyRD-860

Lamp: LED

Image system: LCD

Maximum resolution: 1080P Full HD

Aspect ratio: 16:9 / 4:3

Brightness: Ansi 120 lm / 6000 lux

Language: English, French, German, Spanish, Italian, Japanese, Chinese

Input voltage: AC100V-240V

Total power: 55W

Projection size: 35-200 inch

Working temperature: 0-35°C

Built-in speaker: 4Ω 3W

Lamp life time: 50000 hours

Output port: Headphone port

Input port: USB, Micro-SD card, AV, HDMI, VGA

Weight: 1.1Kg

Dimension: 23 cm x 17.5 cm x 9 cm
Check it out here.
AUKEY RD-870S Cinex S Lite Full HD 1080P Wi-Fi LED Projector with Support Smartphone Screen Sync HDMI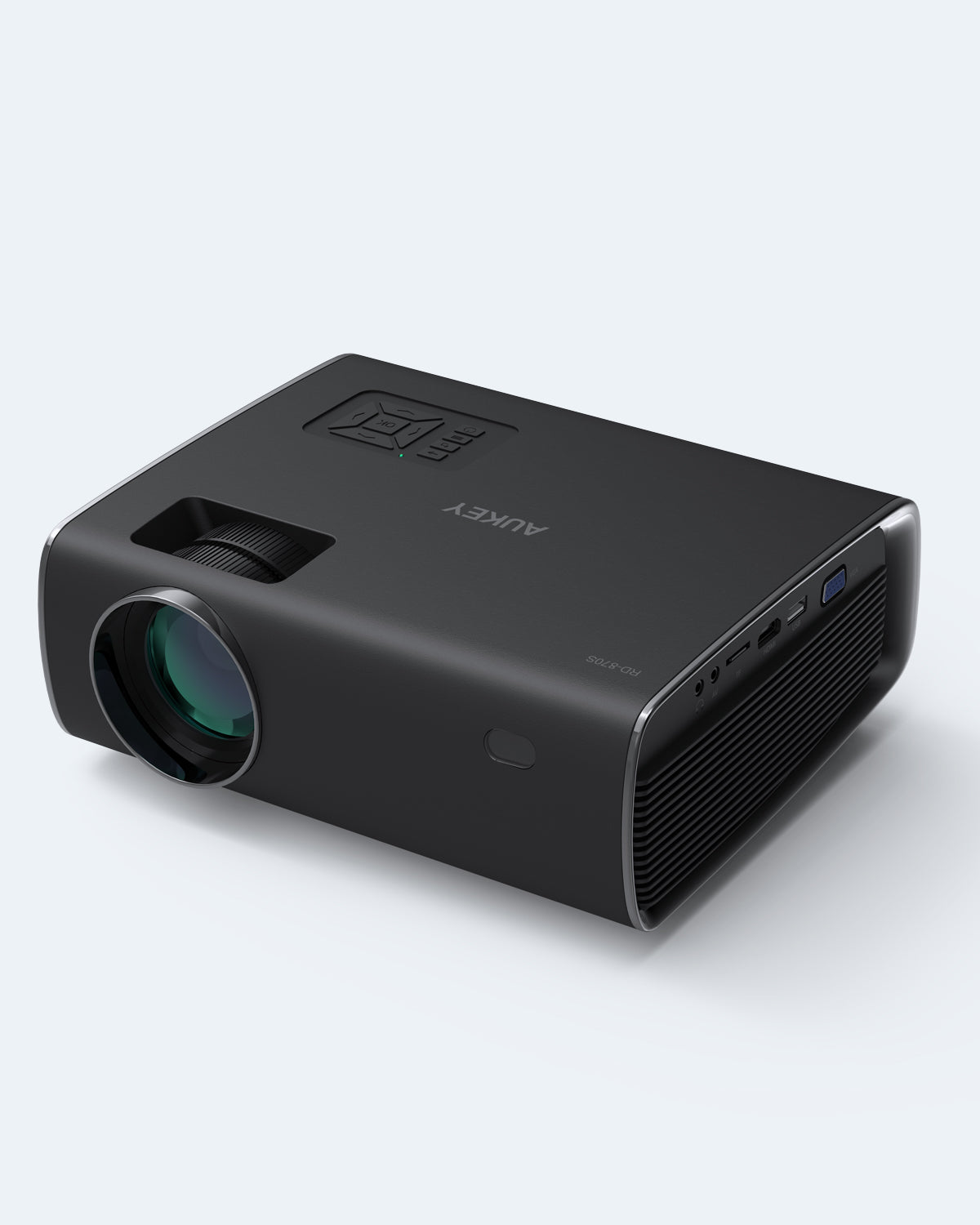 The Aukey RD-870S CineX Lite is a full HD 1080p Wi-Fi LED projector designed to elevate your home theater experience. With its high-resolution output and powerful projection capabilities, it delivers stunning visuals with exceptional clarity.
One of the notable features of the RD-870S is its Wi-Fi connectivity, enabling wireless screen synchronization with your smartphones or tablets. This allows you to stream content directly from popular apps like Netflix, YouTube, and Hulu, providing a vast selection of entertainment options.
The RD-870S supports multiple input sources, including HDMI, USB, VGA, and AV, ensuring compatibility with various devices. Whether you want to connect your gaming console, Blu-ray player, or laptop, this projector offers versatile connectivity options.
Thanks to its built-in stereo speakers, the RD-870S delivers immersive audio alongside the visuals. However, if you prefer a customized sound experience, you can connect external speakers via the audio-out port for enhanced audio quality.
The projector's LED light source boasts energy efficiency and a longer lifespan compared to traditional lamps. With a lifespan of up to 30,000 hours, you can enjoy countless movie nights and presentations without worrying about frequent bulb replacements.
Product Features: 
Maximum resolution:

 

1080P
Language:

 

English, French, German, Spanish, Italian
Input Voltage:

 

AC100V-240V
Projection size:

 

35-200 inch
Working temperature:

 

0-35 C
Lamp lifetime:

 

50,000 hours
Output port:

 

Headphone port
Input port:

 

USB, Micro - SD card, AV, HDMI, VGA
Dimension:

 

24.5 x 21 x 10cm
Audio Format:

 

MP3/AAC/FLAC/OGG/M4C
Image Format:

 

JPG/ PNG /BMP/ JPEG
Video Format:

 

AVI / MP4 / MKV / FLV /MOV / MPEG1
Check it out here.
Projectors have become more than just tools for presentations; they offer versatile entertainment experiences in the comfort of your own home. The Aukey RD-860 and RD-870S exemplify the advancements in projector technology, with features like wireless connectivity, high-definition resolutions, and extensive compatibility. Elevate your viewing and presentation capabilities with these innovative projectors from Aukey.
Check out our full range of projectors here.