Uninterrupted Connectivity on-the-go With Aukey's Fast Charging Powerbanks
In today's fast-paced world, staying connected is crucial, and our devices play an integral role in keeping us in the loop. However, with increasing usage, our smartphones, tablets, and other gadgets often run out of juice before the day is done. Fast charging power banks have emerged as the ultimate solution to this dilemma, ensuring our devices stay powered up no matter where we are. In this article, we explore the benefits of fast charging power banks and feature three top-notch products from AUKEY that are sure to keep you charged on-the-go.
The Power of Fast Charging Technology:
Fast charging power banks are a breakthrough in portable charging technology, offering significant advantages over traditional power banks. These high-capacity powerhouses are equipped with cutting-edge charging technology that delivers a substantial power boost to your devices, minimizing charging times and maximizing convenience. Whether you're a busy professional, a frequent traveler, or an outdoor enthusiast, fast charging power banks are the ideal companion for uninterrupted connectivity.
PB-Y37 20,000mAh 65W PD Powerbank Fast Charge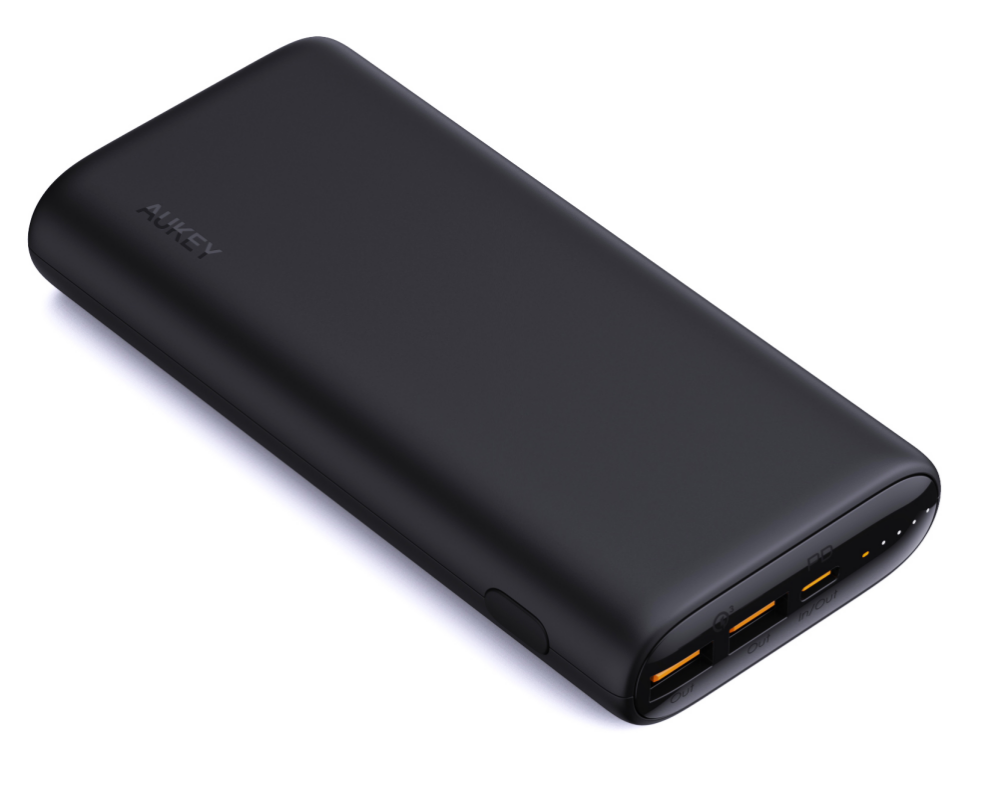 The AUKEY PB-Y37 is a juggernaut of power, boasting a massive 20000mAh battery capacity and 65W Power Delivery (PD) support. This high-speed power bank can charge your devices at lightning-fast speeds, making it an excellent option for power-hungry gadgets like laptops, tablets, and the latest smartphones. With its multiple output ports, including USB-A and USB-C, the PB-Y37 allows you to charge up to three devices simultaneously. Additionally, its compact and portable design ensures that you can carry it with ease wherever you go.
Product Highlights: 
Large Capacity: 20,000mAh capacity enough to charge smartphones multiple times

Universal Charging & High Charging PD Output: 65W Power to fast charge your phones, Macbook Pro 13", Nintendo switch, iPad and more.

Fast Charging: Quick charge 3.0 port charges compatible devices up to 4 times faster than conventional charging

Fast Recharging: Recharge the powerbank fully in just 2 hours with 45 PW input

Low Current Mode: Special mode for charging low-current devices, such as headphones and fitness trackers

Comprehensive Protection: Technology to protect your devices from over charging with short circuit protection, overcurrent protection & temperature detection

Plane-friendly: 20,000mAh capacity is within the international limit for flying.
Check it out here.
PB-Y39 15,000mAh 20W Fast Charge PD Powerbank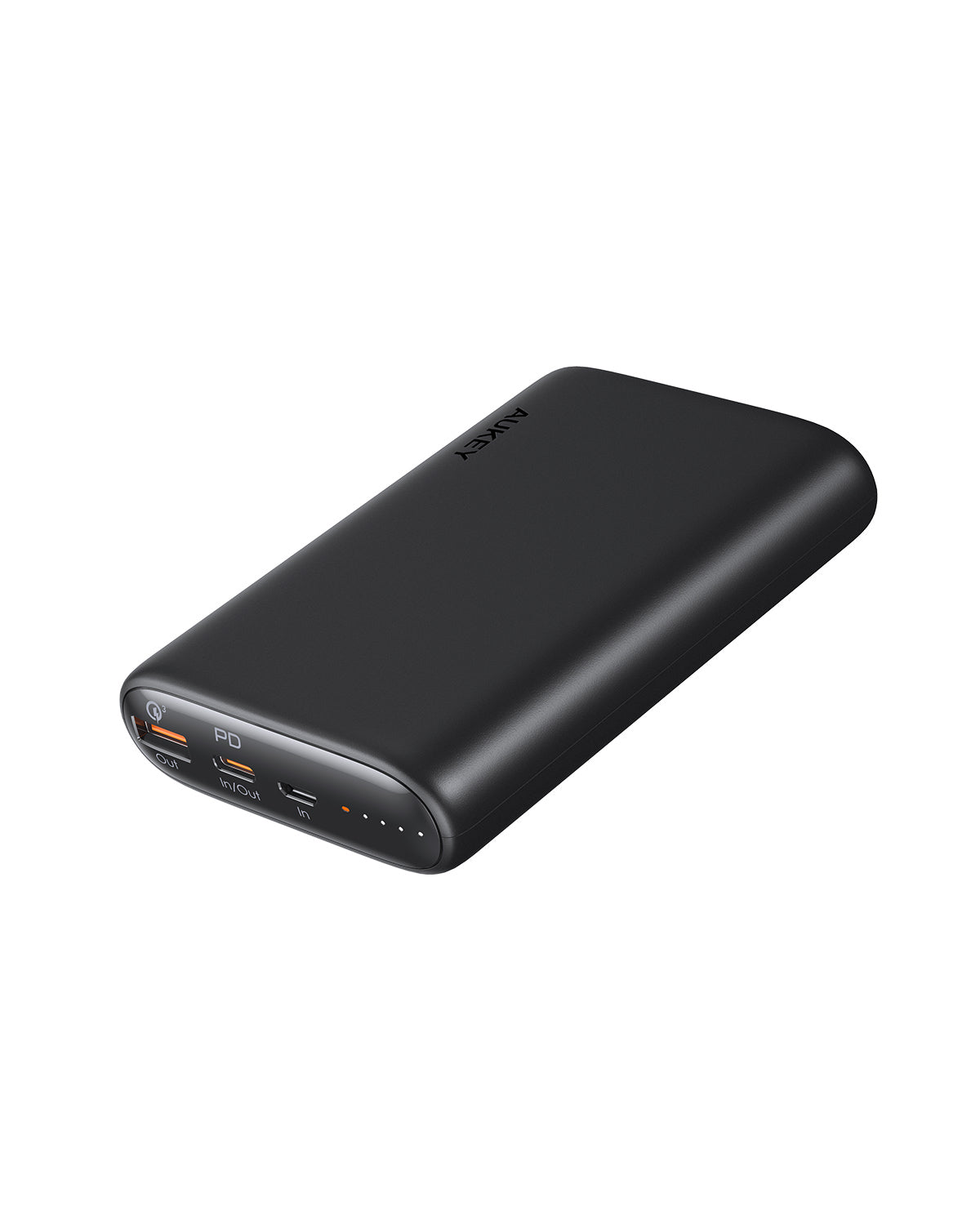 If you prefer a more compact yet powerful option, the AUKEY PB-Y39 is an excellent choice. With a capacity of 15000mAh and 20W PD support, this power bank is optimized for fast charging smartphones and other small devices. Its USB-C Power Delivery port can recharge an iPhone 12 up to 50% in just 30 minutes! The inclusion of a USB-A port further adds to its versatility, allowing you to charge multiple devices simultaneously. Its sleek and slim design makes it the perfect pocket-sized companion for daily use.
Product Highlights: 
Travel-friendly Power Bank

Huge 15,000mAh capacity meets the standard international aviation limit for flying, use for up to a week anywhere in the world

Keep you 100% all the way

The lightweight, portable power easily fits in your bag so you can always have a boost of power wherever you go.

Integrated four-light LED power indicator displays charging status and the current battery life, so you always know how much power you have left.
Check it out here.
PB-WL03 20,000mAh 22.5W Wireless Powerbank PD (Supports Huawei SCP Fast Charge)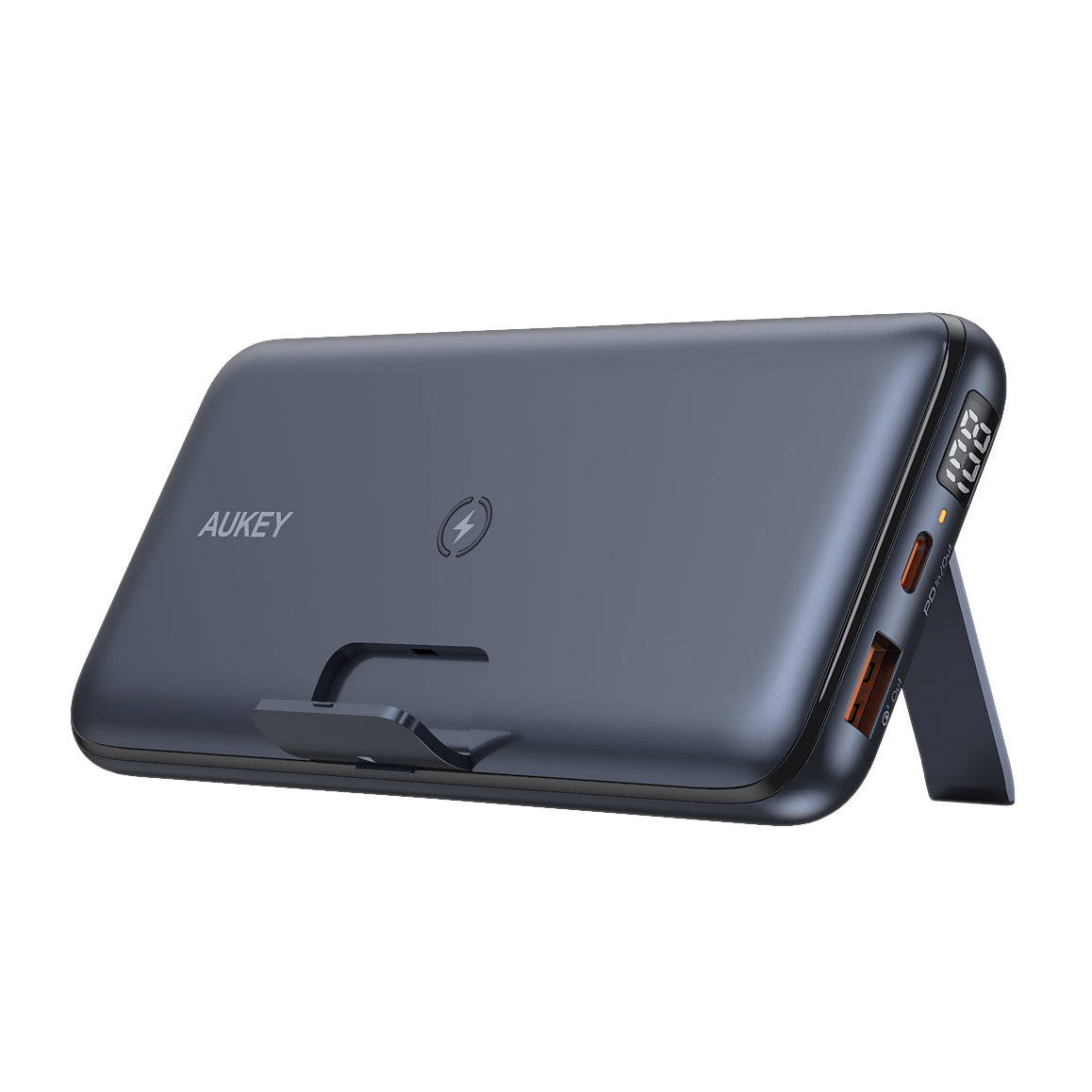 Say goodbye to tangled cables with the AUKEY PB-WL03S wireless power bank. This innovative power bank not only supports wireless charging for Qi-compatible devices but also features Huawei SCP Fast Charge, ensuring efficient charging for Huawei smartphones. With a capacity of 10000mAh, this power bank delivers reliable power when you need it the most. Additionally, the PB-WL03S is equipped with a USB-C PD port and a USB-A port, making it a versatile and future-proof charging solution.
Product Highlights: 
Conveniently charge your Qi-compatible devices at up to 10W without connecting a cable (supports 5W, 7.5W, and 10W wireless output levels). The Wireless Charging flip-out stand and phone rest support your phone for optimized viewing while charging. The adjustable phone holder helps you hands-free for watching videos or kids' study while charging. No More Messy Cable.

Dual Fast Charging Outputs

USB A port can support Huawei devices up to 22.5W SCP Fast Charging.

The Digital LED battery level indicator shows battery level and charging status at a glance. A dedicated charging indicator ensures correct wireless charging and shows when wireless fast charging is active.

Compatible with all quick charge supported phones and charge two devices at once with 18W total output.

Recharge the power bank in just 3.5 hours with an 18W PD charger.

Keep your devices charged on-the-go with this slimline and lightweight 20,000mAh power bank. Great feel in the hand or fit in the pocket with your phone.

Built-in safeguards protect your devices against excessive current, overheating, and overcharging.
Check it out here.
Benefits of Fast Charging Power Banks:
Fast charging power banks offer a host of benefits that cater to our fast-paced lifestyles:
Rapid Charging: Fast charging technology ensures that your devices get charged up quickly, saving you valuable time and keeping you connected throughout the day.

Versatility: With multiple charging ports, these power banks can charge a variety of devices, from smartphones and tablets to laptops and gaming consoles.

On-the-Go Charging: Portable and lightweight, fast charging power banks are designed to accompany you wherever you go, ensuring you never run out of battery power.

Safe and Efficient: Top-tier power banks like AUKEY's products come with advanced safety features to protect your devices from overcharging, overheating, and short circuits.
Fast charging power banks have become indispensable accessories in our modern lives. With their ability to keep our devices charged up in record time, these power banks offer the convenience and flexibility we need to stay productive and connected on-the-go. AUKEY's range of fast charging power banks, including the PB-Y37, PB-Y39, and PB-WL03S, exemplify the epitome of portable charging solutions, making them the perfect addition to any tech-savvy individual's arsenal.