The Top 3 High-Capacity Power Banks With Ultra-Fast Charging
In today's fast-paced world, staying connected is non-negotiable. From work tasks to entertainment, our devices are indispensable, and they need the power to keep up with us. This is where the marvel of ultra-fast charging and high-capacity power banks steps in. Enter the world of uninterrupted connectivity and boundless energy with products like the Aukey PB-Y24 Ultra Sprint Power Bank, Aukey PB-N93 Basix Plus ll, and Aukey PB-WL03S Wireless Power Bank. Let's dive into the realm of cutting-edge power solutions.
The Need for Speed: Ultra-Fast Charging
Gone are the days of waiting for hours to refuel your devices. Ultra-fast charging has revolutionized how we power up. Aukey understands the urgency and brings you power banks that redefine speed:
PB-Y24 Ultra Sprint 26,800mah 65W PD & QC 3.0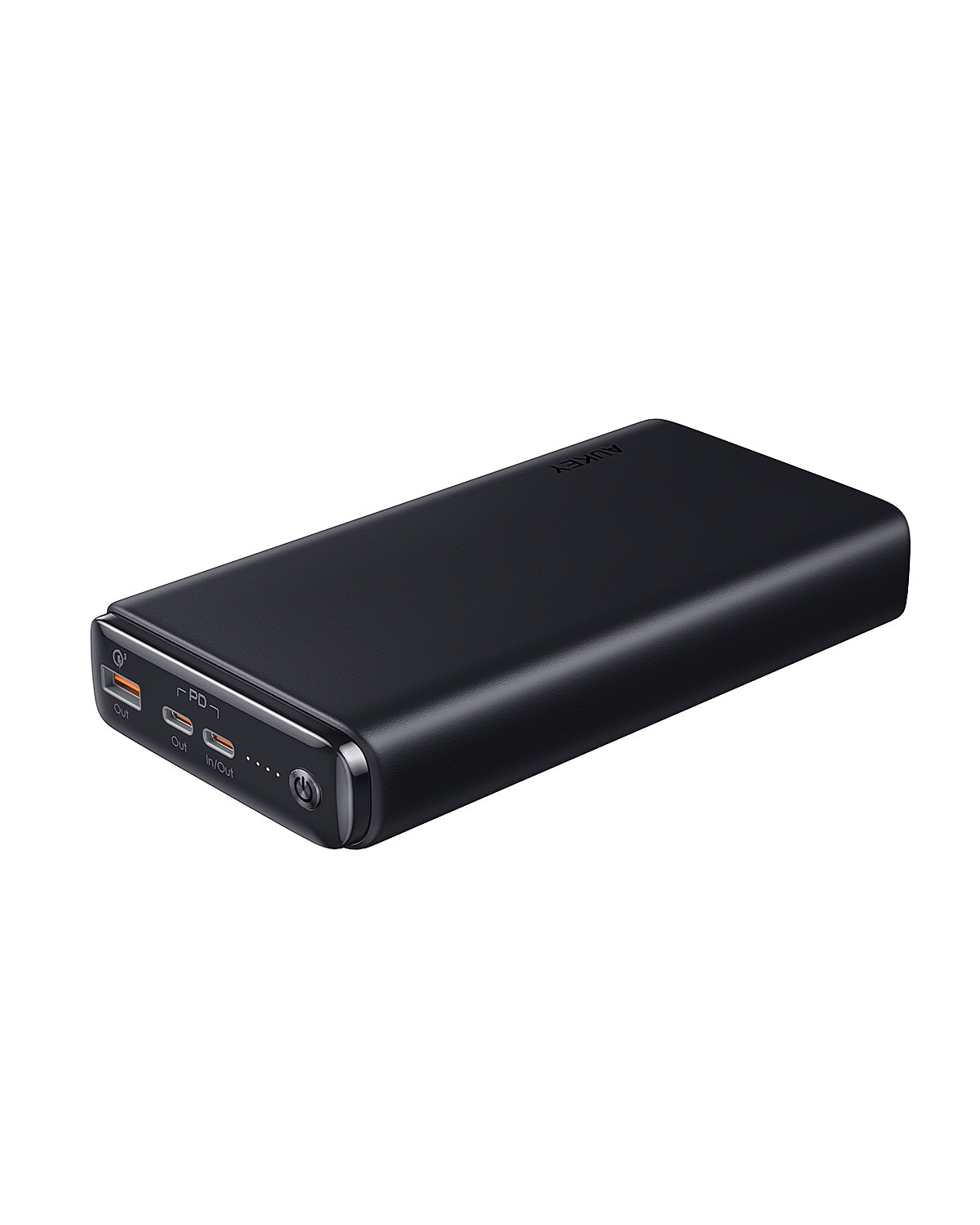 Boasting a colossal 20,000mAh capacity, the PB-Y24 is a powerhouse designed to keep you going. But what truly sets it apart is its 63W total output with both USB-C and USB-A ports. This means not only can it charge multiple devices simultaneously, but it can also do so at remarkable speeds. The USB-C Power Delivery (PD) 3.0 port delivers up to 60W, making it possible to charge laptops, tablets, and even gaming consoles at lightning speed. This power bank exemplifies the fusion of high capacity and ultra-fast charging, ensuring you're always ready to tackle whatever comes your way.
Product Features: 
26,800mAh Compact Power: Sleek power bank with USB-C and USB outputs.
Laptop Charging: USB-C Power Delivery Port at 65W output for laptops.
High-Speed Charging: USB-C for iPhone 12 / 11 / XS / XR, Quick Charge 3.0 for 4x faster charging.
Quick Charge 3.0: Charges 4x faster with INOV Technology. 38% more efficient.
Low-Current Mode: Charges low-current devices like fitness trackers.
Safety First: Safeguards against excess current, overheating, and overcharging.
Check it out here.
AUKEY PB-N93 Basix Plus ll 22.5W 20000mAh Ultra Slim USB C Power Bank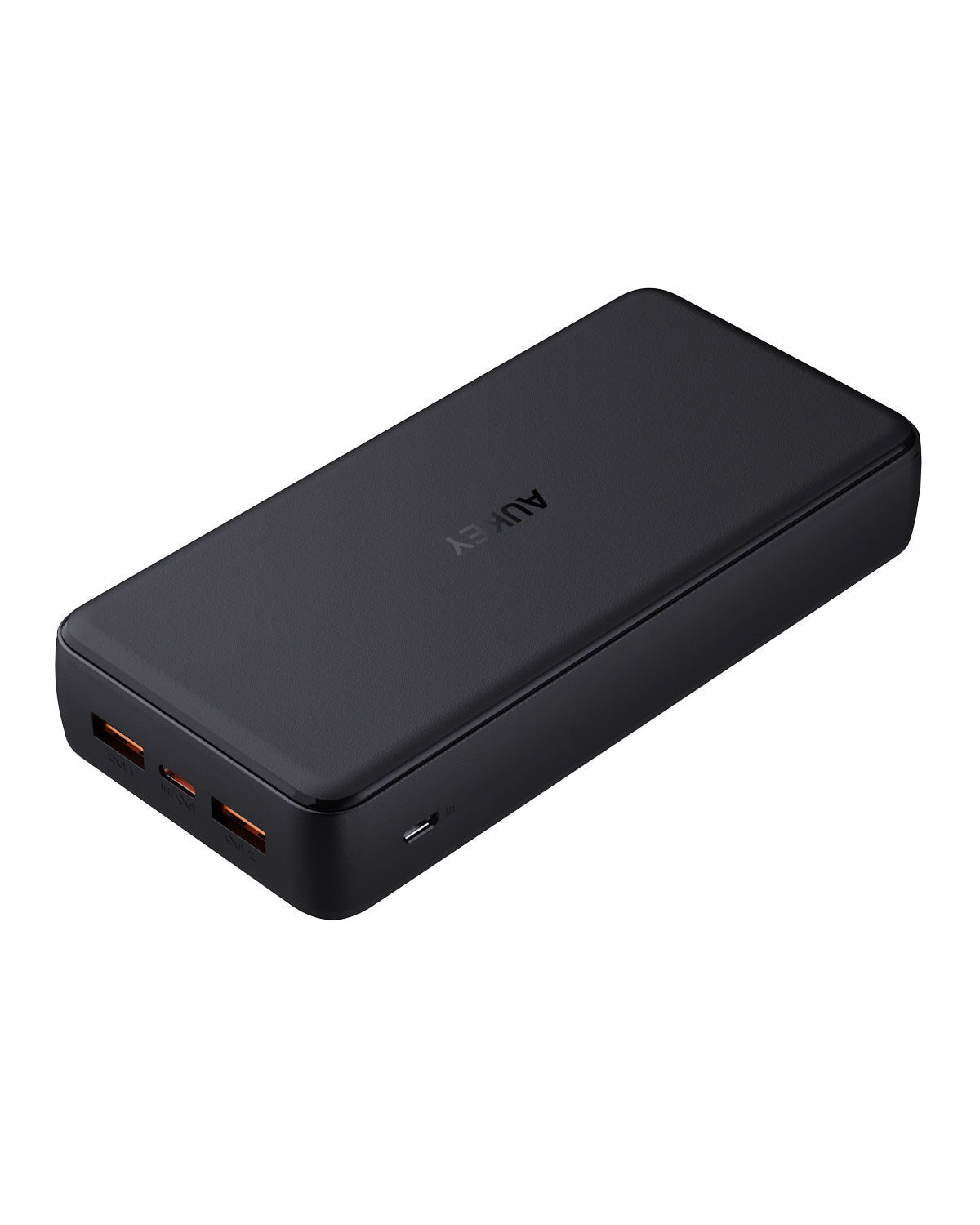 The PB-N93 redefines convenience with its ultra-slim design that slips effortlessly into your pocket or bag. However, its compact form doesn't compromise on power. With a 20,000mAh capacity and 22.5W output, this power bank is a true workhorse. The USB-C port supports Power Delivery 3.0, which means you can charge compatible devices to 50% in just 30 minutes. Whether you're a frequent traveler or a busy professional, the Basix Plus ll ensures you're always powered up without the bulk.
Product Features: 
100% Silicon Nanowire Technology:

 

Maximizes the content of active silicon, ensuring optimal conductivity and a long life cycle
Huge Capacity:

 

20,000mAh is enough to charge an iPhone 11 more than 5 times over
Simultaneous Charging:

 

The two USB-A ports plus the fast-charging USB-C port allows you to charge three devices at once. Recharge the power bank via USB-C or micro-USB
Anti-Slip Texture:

 

More compact than other power banks with the same capacity and sporting a unique three-dimensional surface that keeps it free of fingerprints
Safe & Reliable:

 

Built-in safeguards protect your devices against excessive current, overheating, and overcharging.
 Check it out here.
Pushing Boundaries: Wireless Power Charging
Imagine the freedom of wireless charging in a portable form. Aukey brings this dream to life with a power bank that's as cutting-edge as it is convenient:
PB-WL03 20,000mAh 22.5W Wireless Powerbank PD (Supports Huawei SCP Fast Charge)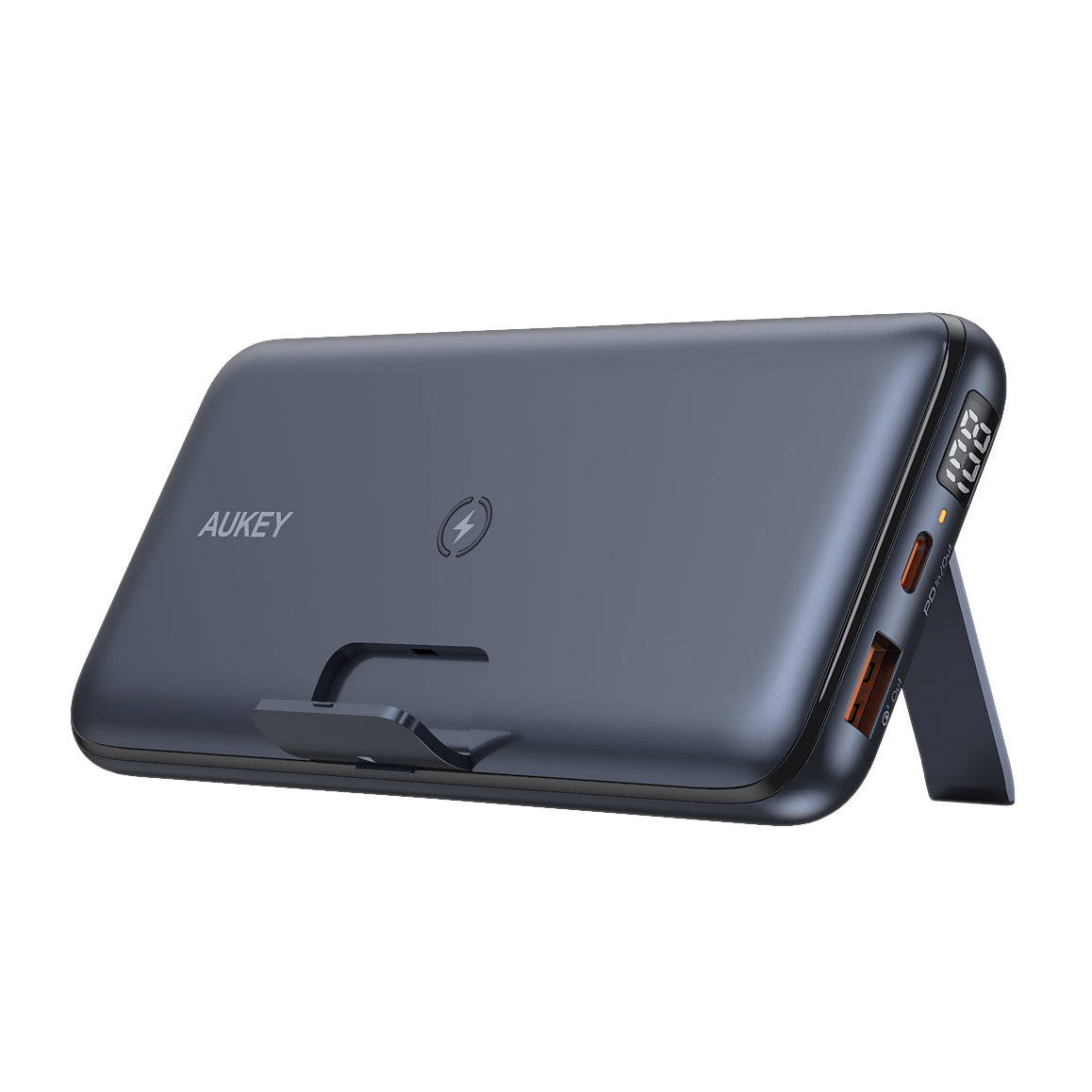 The PB-WL03S takes charging innovation to the next level. With a 20,000mAh capacity, this power bank offers ample energy for your devices. But what truly stands out is its wireless charging capability. Simply place your Qi-enabled smartphone on the power bank's surface, and watch it come to life without the need for cables. The inclusion of Huawei SCP Fast Charge ensures lightning-quick wireless charging for compatible devices. Additionally, it features USB-C and USB-A ports, giving you a trio of charging options that cater to every device in your arsenal.
Product Features: 
Wireless Convenience: Qi wireless charging up to 10W, adjustable stand, hands-free use.
Dual Fast Charging: 18W PD and Quick Charge 3.0 outputs, fast charge iPhone, Pixel, more.
Huawei SuperCharge: 22.5W SCP Fast Charging for Huawei.
Digital LED Display: Battery level and wireless status.
Smart Portable Charger: Charge 2 devices, 18W total output.
Quick Recharge: 3.5-hour recharge with 18W PD.
Slim & Lightweight: 20,000mAh, pocket-friendly.
Safe & Reliable: Built-in safeguards.
Check it out here.
Redefining Convenience: Beyond Capacity and Speed
While capacity and speed are the cornerstones of these power banks, their design and features amplify their convenience:
Smart Charging Technology: Aukey power banks are equipped with smart charging technology that adapts to the needs of your devices, delivering optimal power without overloading them.

Durability: These power banks are built to withstand the demands of modern life. From their sturdy construction to their robust ports, they're designed to be your reliable companions.

Portability: Despite their power, these power banks are designed with portability in mind. Whether you're on a business trip or an outdoor adventure, they're the perfect companions.
The era of ultra-fast charging and high-capacity power banks has ushered in a new level of connectivity and convenience. The Aukey PB-Y24 Ultra Sprint Power Bank, Aukey PB-N93 Basix Plus ll, and Aukey PB-WL03S Wireless Power Bank are prime examples of this transformative technology. With capacities that can keep you going for days and charging speeds that defy expectations, these power banks are the epitome of modern charging solutions. Whether you're a jet-setter, a gamer, a creative professional, or simply someone who values uninterrupted connectivity, these power banks are ready to take your devices to new heights. Say goodbye to low battery anxiety and welcome a world of power, speed, and innovation into your hands.