Supercharge Your Devices With Aukey's Best Wall Chargers
In our fast-paced, tech-savvy world, wall chargers have become essential companions, ensuring our devices stay powered up for seamless connectivity and productivity. As the demand for faster and more efficient charging solutions continues to grow, renowned tech brand AUKEY steps up to the challenge with its cutting-edge wall chargers. In this article, we explore the features and benefits of three top-notch wall chargers from AUKEY, designed to meet the diverse charging needs of modern consumers.
PA-F3S 32W Swift Series PD Dual USB-C & USB-A Wall Charger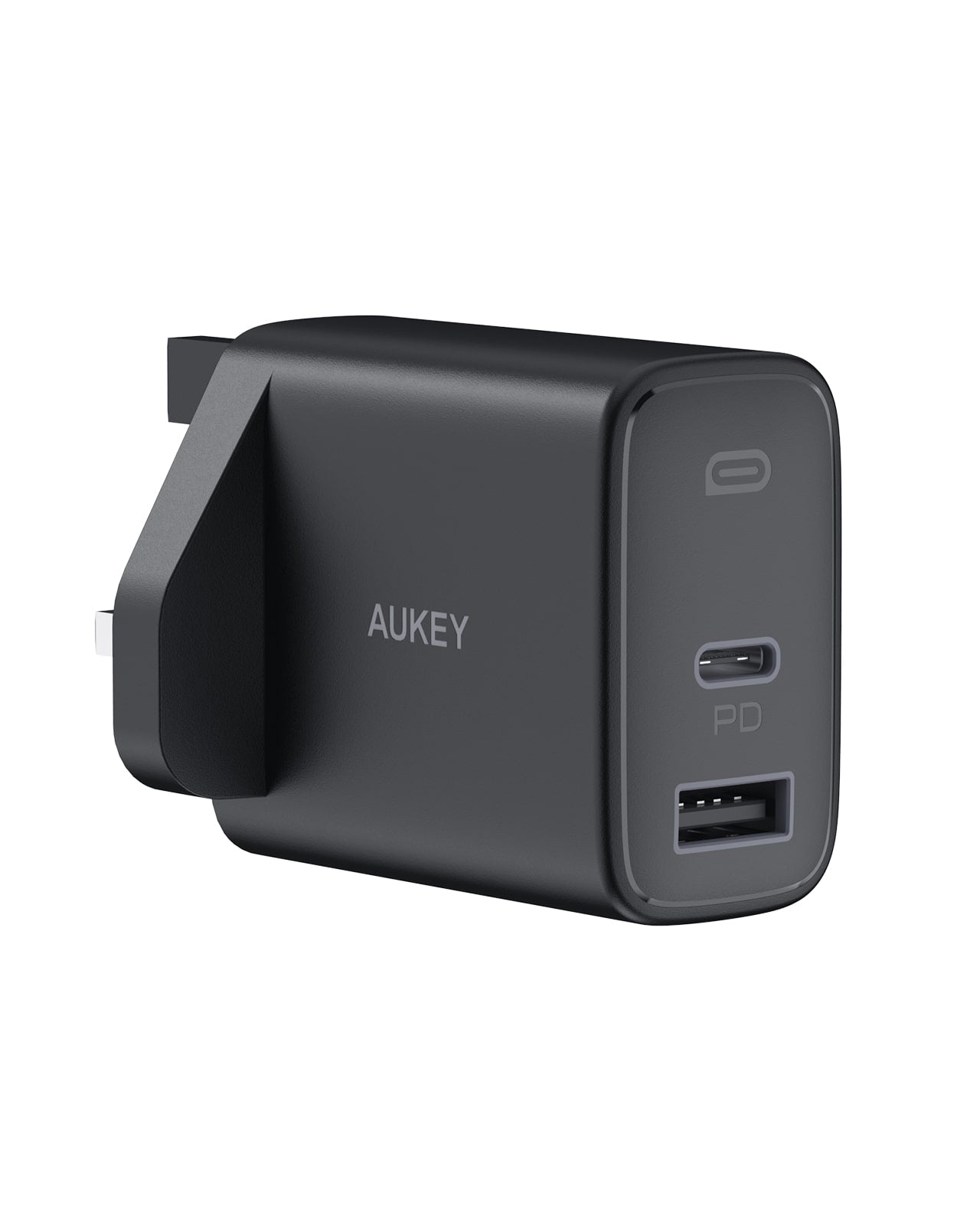 The AUKEY PA-F3S Swift Series wall charger exemplifies the perfect balance between power and portability. With dual USB-C and USB-A ports, this charger is equipped to handle a variety of devices, from the latest smartphones to tablets and laptops. Featuring 32W Power Delivery, it can charge compatible devices rapidly, providing up to 18W output through the USB-C port, and 12W via the USB-A port. The Swift Series wall charger ensures optimal charging efficiency, thanks to its smart adaptive charging technology, which automatically adjusts the output to match the connected device's power requirements.
The Swift Series' compact and foldable plug design makes it an excellent travel companion. Its worldwide voltage compatibility ensures it can be used in various countries without the need for additional adapters. The reliable and efficient charging performance of the PA-F3S Swift Series ensures your devices stay powered up throughout your journeys.
Product Highlights: 
High-Speed Charging: Fast charge for your iPhone SE, iPhone 12 Pro Max or other compatible USB-C powered devices with 20W Power Delivery

32W Total Output: Equipped with an 20W Power Delivery 3.0 port and a 12W USB port, this charger supports simultaneous charging for two devices

Broad Compatibility: Works with most USB-C & USB-powered devices including for iPhone SE, iPhone 13 / 13 Pro / 13 Pro Max / 12 / 12 Pro / 12 Pro Max, Google Pixel 4 / 3, LG V50, and Samsung Galaxy S10

Portable & Safe: Extremely small form factor ensure maximum portability wherever you go. Built-in safeguards protect your devices against excessive current, overheating, and overcharging
Check it out here.
Aukey PA-B6T Omnia II 3-Port 65w PD & Super Fast Charging (PPS) Wall Charger with GaN Power Technology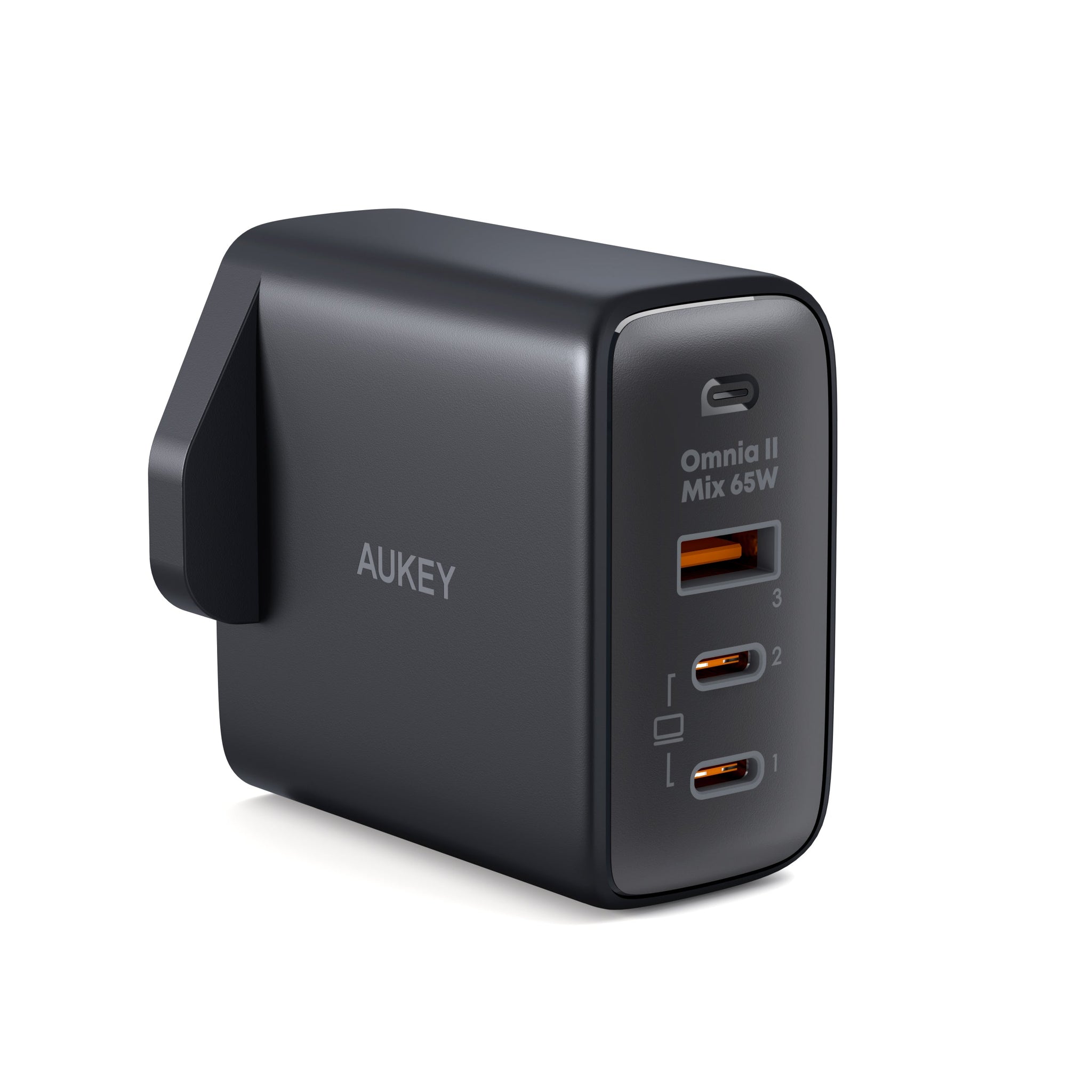 AUKEY's PA-B6T Omnia II wall charger sets the bar high with its powerful charging capabilities. With three ports, including two USB-C and one USB-A, this charger is a versatile solution for charging multiple devices simultaneously. The Omnia II utilizes GaN (Gallium Nitride) power technology, which offers higher power efficiency, faster charging, and a more compact design compared to traditional silicon-based chargers.
The PA-B6T supports 65W Power Delivery with Programmable Power Supply (PPS) capability, making it ideal for charging high-powered devices like laptops and tablets at super-fast speeds. Additionally, its USB-A port provides Quick Charge 3.0 for compatible smartphones, ensuring you never run out of battery power during critical moments.
Product Highlights: 
Advanced GaN Chip:
The new GaN (Gallium Nitride) technology increases charging speed and maintains charging stability while much smaller than traditional silicon based models
 
Dynamic Detect:
This charger intelligently adjusts the distribution of power to the attached devices according to their needs, ensuring your device charges the best it can.
 
High-Speed Charging:
Offers 65W Power Delivery 3.0 charging , which is 3 times faster charging, fast charge your iPhone, Samsung Galaxy phones, Google Pixel 4 / 3 XL, LG G7 / V50, AirPods Pro, Switch, 11" / 12.9" iPad Pro, iPad Air (3rd Gen), iPad mini (5th Gen), and more; 13" MacBook Pro Dell XPS or other compatible USB-C devices that support USB Power Delivery.
 
Dual-Device Charging:
Charge a USB-C laptop and iPhone together.
 
Safe & Reliable:
Built-in safeguards protect your devices against excessive current, overheating, overcharging, short circuit and lightning strike
Check it out here.
Key Benefits of AUKEY Wall Chargers:
Advanced Charging Technology: AUKEY's wall chargers utilize advanced charging technologies like Power Delivery and GaNFast, providing fast and efficient charging for a wide range of devices.

Versatility and Compatibility: With multiple ports and support for various charging protocols, AUKEY's wall chargers are compatible with smartphones, tablets, laptops, and more, making them versatile charging solutions for all your devices.

Compact and Portable: Designed with convenience in mind, AUKEY's wall chargers boast compact and foldable designs, making them perfect travel companions for charging on-the-go.

Safety Features: AUKEY prioritizes safety with built-in protections against overcharging, overheating, and short circuits, ensuring your devices are charged safely and reliably.
In the age of constant connectivity and productivity, efficient and reliable charging solutions are essential. AUKEY's range of wall chargers, including the PA-F3S Swift Series, PA-B6T Omnia II, and PA-B4 Omnia Duo, deliver top-tier charging performance, combining cutting-edge technologies with travel-friendly designs. Elevate your charging experience with AUKEY's innovative wall chargers, and power up your devices with ease and efficiency.