Fast Charging Wall Chargers for Multi-Device Charging
With smartphones, tablets, laptops, and an array of gadgets being essential to our daily lives, charging solutions must evolve to cater to our ever-growing power needs. Fast charging wall chargers have emerged as the ultimate solution, offering swift and efficient charging capabilities. Aukey, a leading name in technology, introduces two remarkable chargers - the Aukey PA-B6T Omnia II and the Aukey PA-B4T Omnia ll. These chargers not only harness the power of fast charging but also embrace the convenience of multi-device charging. Let's delve into the world of rapid charging and explore these cutting-edge chargers.
The Power of Fast Charging Wall Chargers
Aukey PA-B6T Omnia II 3-Port 65w PD & Super Fast Charging (PPS) Wall Charger with GaN Power Technology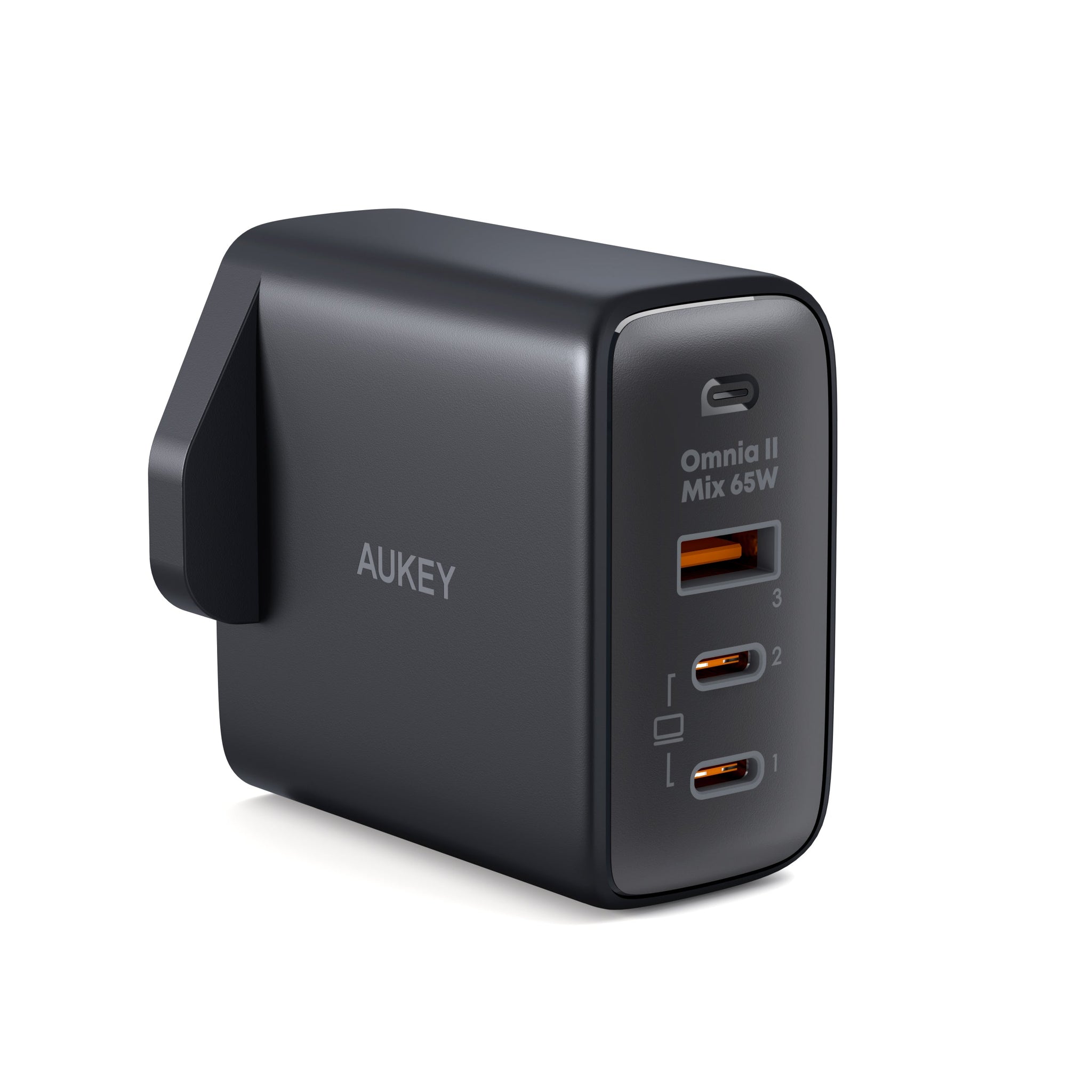 With the PA-B6T Omnia II, Aukey propels charging into the future. Armed with Power Delivery (PD) technology and GaN power, this charger boasts a 65W output. This robust power is channeled through its three ports, ensuring your devices are charged with unparalleled speed. The built-in Programmable Power Supply (PPS) enables precise voltage and current adjustments, enhancing compatibility across devices. This means your gadgets receive exactly the power they need, optimizing charging efficiency. As we embrace the era of versatile tech devices, the PA-B6T Omnia II is a charging powerhouse that adapts to your evolving charging needs.
Product Features: 
GaN Advancement: GaN (Gallium Nitride) tech speeds up charging while maintaining stability in a smaller size than traditional silicon models.
Dynamic Distribution: Intelligently adjusts power distribution to attached devices, optimizing their charging experience.
High-Speed Charging: Provides 65W Power Delivery 3.0 charging, 3x faster for devices like iPhone, Samsung Galaxy, iPad, and more, including laptops like MacBook Pro and Dell XPS.
Dual Charging: Charge both a USB-C laptop and iPhone simultaneously.
Safe & Reliable: Built-in protections prevent excess current, overheating, overcharging, short circuits, and lightning strikes.
Super-Fast Support: Backs 65W PPS Power Delivery for Samsung models like Z Flip, S22 Ultra, and more.
iPhone Boost: Supports 30W Power Delivery fast charging for iPhone 14/13/12 Series and iPad.
Check it out here.
Aukey PA-B4T Omnia ll Dual-Port USB-C 45W PD Wall Charger with GaN Power Technology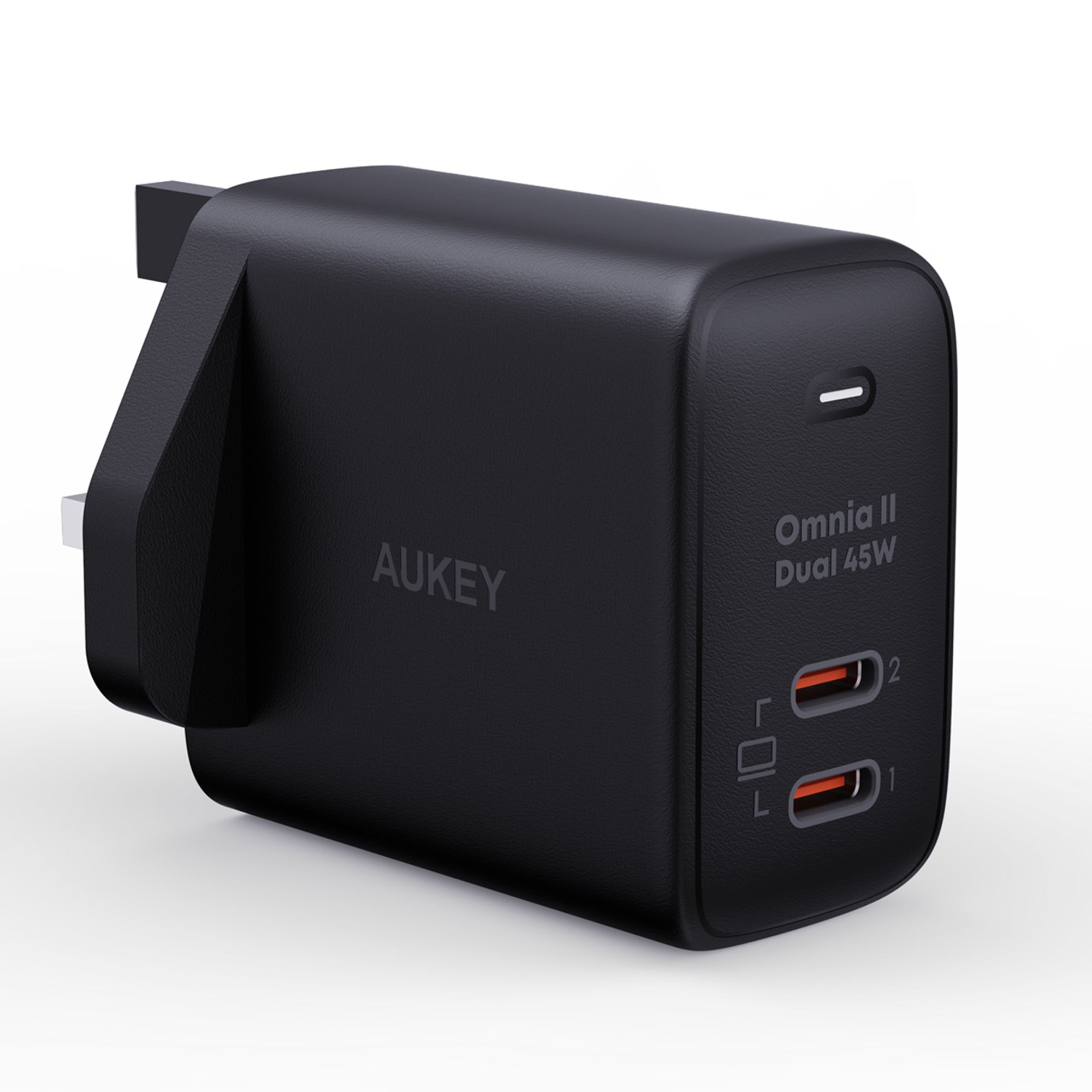 The PA-B4T Omnia II takes dual-port charging to new heights. Sporting two USB-C ports, this charger delivers a combined 45W output. Whether it's your smartphone, tablet, or another USB-C device, the PA-B4T ensures a quick and efficient charge without the hassle of slow charging times. Its GaN power technology enhances charging efficiency, allowing you to power up with unmatched speed. This charger is a testament to the balance between portability and power, making it a perfect companion for both travel and daily use.
Product Features: 
Omnia GaN Tech: Charge faster with AUKEY's compact Omnia series – world's smallest PD chargers.
Dynamic Charging: USB-C outputs full 45W Power Delivery with AUKEY Dynamic Detect.
High-Speed Charge: 3x faster charging for iPhone, Samsung Galaxy, Google Pixel, AirPods Pro, iPad, Switch, MacBook Pro, and more.
Wide Compatibility: Compatible with MacBook Pro 13'', Switch, iPhone 11 Pro Max, Google Pixel 4, Samsung Galaxy S10, and more.
Safe & Reliable: Built-in safeguards protect against excess current, overheating, and overcharging.
Check it out here.
Multi-Device Charging: A Seamless Solution
The era of one-device charging is long gone. Our lives are intricately woven with technology, and fast charging wall chargers have recognized this need for simultaneous charging. These Aukey chargers present a dynamic approach to multi-device charging:
Versatile Ports: The PA-B6T Omnia II's three ports and the PA-B4T Omnia II's dual ports ensure you can charge multiple devices simultaneously. This is a game-changer, especially in environments where sharing power outlets is a common challenge.

Optimal Efficiency: Fast charging and adaptive technology mean that your devices receive the optimal power without overloading or overheating. This intelligent power distribution enhances charging speed while keeping your gadgets safe.

Travel Companion: Both chargers are designed with portability in mind. Their compact designs make them suitable for travel, ensuring that you never run out of power on the go.
Charging Ahead into the Future
Fast charging wall chargers are more than just charging solutions; they're enablers of seamless digital lifestyles. Aukey's PA-B6T Omnia II and PA-B4T Omnia II redefine how we perceive charging technology. They epitomize the future of charging, offering speed, efficiency, and the ability to cater to multiple devices simultaneously.
As our devices evolve and become integral to our productivity and entertainment, charging solutions must evolve as well. Aukey's chargers are leading the charge in this evolution, offering a glimpse into a world where charging isn't a concern but a convenience. With the PA-B6T Omnia II and PA-B4T Omnia II, you're not just charging your devices; you're empowering them to keep up with your fast-paced life. It's a future where technology and power unite seamlessly, ensuring you're always one step ahead, fully charged and ready for whatever comes your way.