Embrace the Future of Fitness with the AUKEY SW-1 Smartwatch
In the fast-paced world of technology, smartwatches have become indispensable gadgets, seamlessly blending fashion with function. These innovative wearables have revolutionized the way we manage our daily lives, from tracking fitness activities to staying connected on the go. Among the myriad of options available, the AUKEY SW-1 Smartwatch stands out as a true game-changer in the realm of smart wearable devices.
The AUKEY SW-1 Smartwatch is a stunning fusion of style and substance. Crafted with precision and elegance, its sleek design effortlessly complements any outfit, making it a versatile accessory for both formal and casual occasions. The smartwatch boasts a customizable watch face, allowing users to match their personal style with ease.
At its core, the AUKEY SW-1 is a fitness tracker par excellence. Featuring 10 sports modes tracking, this smartwatch can monitor a diverse range of activities, including walking, running, cycling, and more. Whether you're a seasoned athlete or a casual fitness enthusiast, this timepiece adapts to your workout regime, offering real-time data on steps taken, calories burned, and distance covered.
Beyond fitness tracking, the AUKEY SW-1 prioritizes your health and well-being. Equipped with advanced sensors, it keeps a close watch on your heart rate, providing valuable insights into your cardiovascular health. Additionally, the sleep tracking feature offers a comprehensive analysis of your sleep patterns, helping you improve the quality and duration of your rest.
Effortlessly connect the AUKEY SW-1 to your smartphone, and unlock a world of convenience at your wrist. Receive notifications for calls, messages, emails, and social media updates, ensuring you never miss a beat, even during the most hectic days. The smartwatch also functions as a remote control for your phone's camera, making it a must-have for capturing picture-perfect moments.
The AUKEY SW-1 is engineered to simplify your life. With its IP68 water and dust resistance rating, the watch can withstand the rigors of daily life and occasional water splashes, allowing you to focus on what matters most without worry. Additionally, the watch offers a prolonged battery life, keeping you connected and motivated throughout the day.
Navigating the features of the AUKEY SW-1 is a breeze, thanks to its intuitive user interface. The touchscreen display responds promptly to gestures, while the simple menu layout ensures that accessing different functionalities is quick and easy. Whether you're tech-savvy or a first-time smartwatch user, the AUKEY SW-1 is designed to accommodate all.
The AUKEY SW-1 embraces inclusivity with its adjustable strap, catering to a wide range of wrist sizes comfortably. The high-quality materials used in its construction ensure durability, promising a long-lasting partnership with its wearer.
In a world where innovation constantly reshapes our daily routines, the AUKEY SW-1 Smartwatch emerges as an indispensable tool for modern living. Seamlessly blending style, functionality, and fitness tracking, this smartwatch empowers users to lead healthier and more connected lives. Whether you're a fitness enthusiast or a fashion-forward individual, the AUKEY SW-1 is the perfect companion to enhance your lifestyle, track your fitness journey, and stay connected throughout the day.
Aukey SW-1 Smartwatch Fitness Tracker with 10 Sport modes tracking & customisable watch faces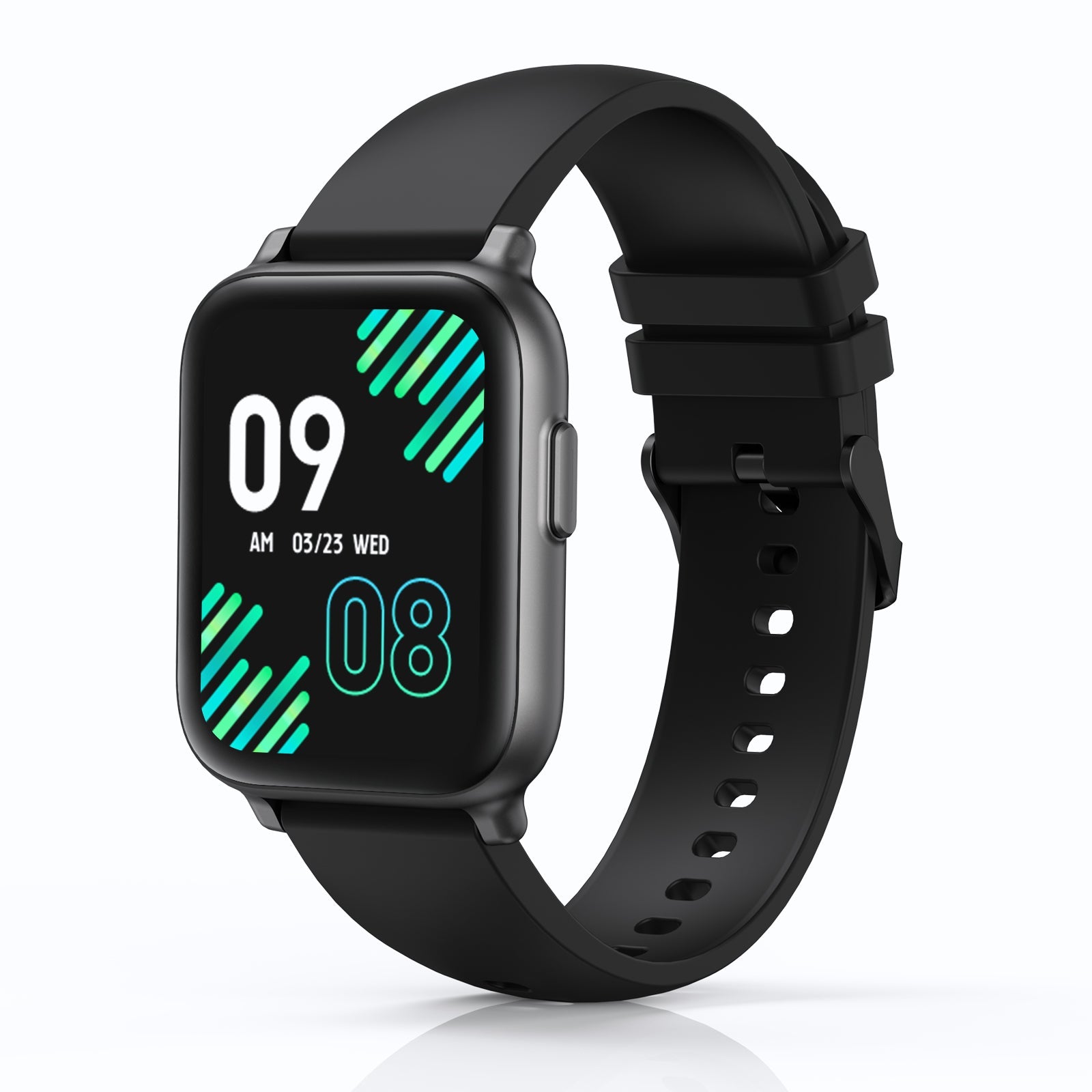 Product Specifications:
Model: AUKEY SW-1
Screen: 1.69-inch TFT LCD display
Resolution: 240 x 280p
BT Version: BT 5
Sensors: Heart rate sensor, blood oxygen sensor, G-sensor
Battery Capacity: 200mAh
Battery Life: Up to 25 days
Operating Temperature: -20°C – 45°C / -4°F – 113°F
IP Rating: IP68
System Compatibility: Android 5.5 / iOS 11 or higher
Data Sync Platform: AUKEY Fit Pro app
Watch Body Dimensions: 4.4 x 3.65 x 1cmFitness
Watch Strap Width: 2cm
Weight (watch strap included): 34.2g
 What's in the box:
1 x AUKEY SW-1 Smart Watch
1 x USB Charging Cable
1 x Watch Strap
1 x User Manual
24 Month Local Warranty, register at https://www.aukey.sg/pages/warranty-registration