10 Gorgeous Power Bank Designs to Consider Getting (2022)
What's a Power Bank?
A power bank is a portable charger designed to recharge your electronic devices when you're on the move.
Ranging in size from slim, pocket-sized devices up to larger, higher-capacity power banks – they can be used to charge smartphones, tablets etc. 
10 Gorgeous Power Bank Designs to Consider Getting:
Functional Powerbank Designs
1. Handy Flip-Out Stand
If you're a fan of binge-watching YouTube videos, you probably should get a power bank with a handy flip-out stand that doubles-up as a phone rest. 
Why not check out the AUKEY PB-WL01S 20W 10,000mAH PD Wireless Charging with Kickstand Powerbank? 
The kickstand leg of the power bank provides stable hands-free phone viewing. 
2. Ultra Compact
Looking for a power bank in Singapore that is as compact as possible?
Go with the AUKEY PB-N83S 10,000MAH 22.5W Powerbank Portable Charger, which is even smaller than a credit card. 
Place this power bank in your bag without it taking up too much space.
3. In-Built USB-C Cable
Find it a hassle to have to bring a USB-C cable along with your power bank?
Get the AUKEY PB-N73C 10,000mAh 18W With Built-In USB-C Cable Ultra Thin Portable Charger, priced at S$49.90 on sale. 
The built-in USB-C cable saves you the trouble of bringing out multiple items.
4. Refined Design
In today's world where less is more, everyone loves a minimalist power bank.
The slimlined design of the AUKEY PB-N73 / PB-N73S 10,000mAh 12W / 18W Ultra Thin Portable Charger makes it comfortable to hold.
The minimalist LED indicator shows the remaining power at a glance.
5. In-Built Safeguards
Looking for a power bank in Singapore designed with in-built safeguards? 
You can't go wrong with the AUKEY PB-N74S 20,000mAh Basix Plus 22.5W Power Bank. 
Built-in safeguards protect your devices against excessive current, overheating, and overcharging.
Aesthetic Powerbank Designs
6. Wooden Powerbank With Engraved Deer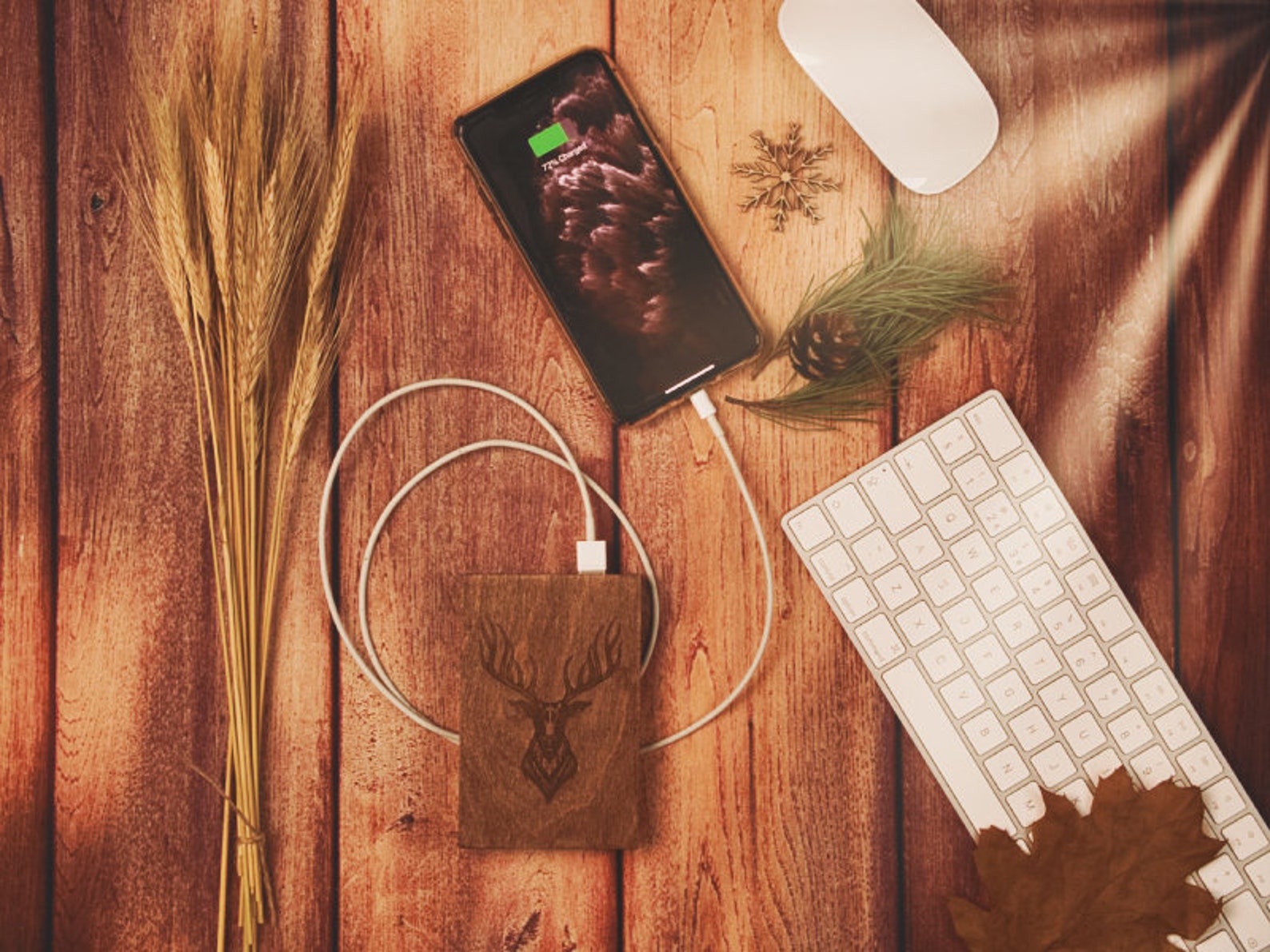 Source: Etsy
Looking for the perfect gift for your significant other this coming Christmas?
There's no gift more stylish than the Wooden Powerbank With Engraved Deer.
All power banks are made from variety kind of wood (oak, walnut, birch, pine).
You will also be able to include a few of following natural extras – Conifer Twig, Forest cone, Acorn, Chestnut or similar. 

7. Personalised Pokemon Powerbank
Source: Etsy
This slim and well-made Xiaomi powerbank makes for a very functional gift for yourself or for anyone for any occasion.
It has dual-ports, charges up to two devices at the same time, and provides a relatively quick charge for all phone models so you will never have to worry about your phone running out of battery again!
The power bank also has a stunning design. 
For this listing, a line drawing of Pikachu was incorporated.
You may personalize it by having the recipient's name engraved on the other side.

Each design is laser engraved onto the power bank.
Laser engraving, unlike printing, will not tarnish or fade.
It is permanent and stays forever.
8. Pink Marble Lipstick Powerbank
Source: Richmond & Finch
Looking for a power bank that will bedazzle with its design?
Go with the Richmond & Fitch Lipstick Powerbank, which has a stylish lipstick tube design and has a battery capacity of 2,600 mAh.
The power bank is compatible with iPhone and Android and provides 80% full charge for all devices. 
9. Calacatta Emerald Marble Wireless Powerbank
Source: Ideal of Sweden
The Printed QI Charger in Calacatta Emerald Marble revisits Ideal of Swden's classic marble prints with a design inspired by the Calacatta stone.
Convenient and exquisite, the Qi wireless charging pads can be used with Qi-activated smartphones.
The charger can be used with iPhone 12/ 12 Pro, 12 Pro Max, iPhone Mini,11 Pro Max/ 11 Pro/ 11/ XR/ Xs Max/ Xs/ X/ SE (2020)/ 8/ 8 Plus, Samsung S8/ S8 +/ S9/ S9 +/ S10 /S10+ /S10E/ S20/ S20+/ S20 Ultra , Huawei P30 Pro and other devices that support Qi-charging. 
10. Minimalist Floral Wireless Charging Station
Source: Etsy
This Minimalist Flowers Wireless Charger will let you forget about fumbling with wires and adaptors when you need some power for your phone.
And not only will it eliminate the need to hunt down cables, your Aesthetic Floral Charging Station will also add a modern touch to your home or office décor.
Its Fast Charging technology will enable you to use your phone in a jiffy after just simply placing it on the charging dock.
Minimalist Flowers design is smooth, quality print with a light matt finish.
Final Words
AUKEY has a wide range of
power banks
 for you to
 charge your Xiaomi, Samsung, iPhone, laptop, and Nintendo Switch.
Our wireless power banks are available in 10,000mAh and 20,000mAh!